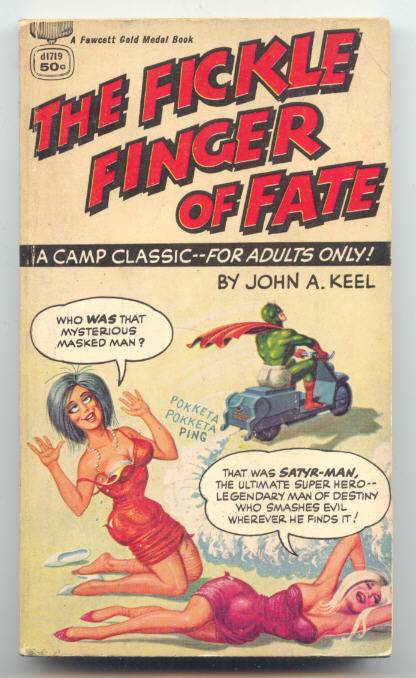 The Fickle Finger of Fate (Fawcett, 1966) isn't as well known as John's other books, and may puzzle readers who know him only as a reporter of the unexplained.  It's the only novel he published under his own name (although he also used his real name for a number of short stories).  It's really more of a humor book than a novel: a spy and superhero spoof much like such TV shows of the time as "Batman" or "Get Smart," or the broad take-offs of MAD magazine.  In fact, there are exaggerated cartoon sound effects, like those in "Batman":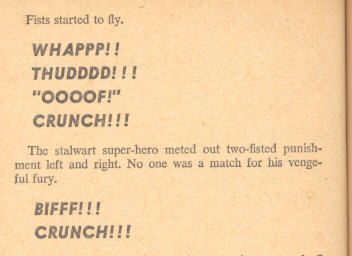 and illustrations by veteran MAD cartoonist Al Jaffee: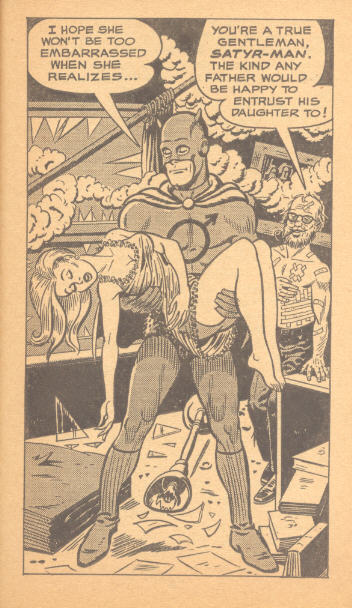 Satyr-Man, a sexually insatiable superhero in a "jet-age plastic helmet," battles G.Y.P.  — "Global Yokel Put-On" — "the dastardly organization of international swindlers, smugglers, assassins, and hubcap thieves."  As you might suspect, his career is mostly farcical sex and slapstick violence.  "Camp" and "kitsch" were the bywords then; in fact, even Jerry Siegel (see the last post) put out a paperback of High Camp Superheroes that same year.  College humor magazines were filled with parodies like "Fratman" and "Captain Crud."
As usual, John included some of his friends in cameos.  Dick DeBartolo (prolific MAD writer) appears as a ship captain, since he was a boating enthusiast; and Paul Krassner (writer and editor of the satirical magazine The Realist) shows up as the ship's "token atheist."
There is an interesting connection to Mothman in all of this.  The creature was originally known as the Mason County Monster; and the popularity of camp superheroes — including Satyr-Man — probably inspired its re-christening as Mothman.
There was also a movie called The Fickle Finger of Fate in 1967.  It starred Tab Hunter.  I've never seen it; but the reviews I've read indicate that its plot owed nothing to John's book.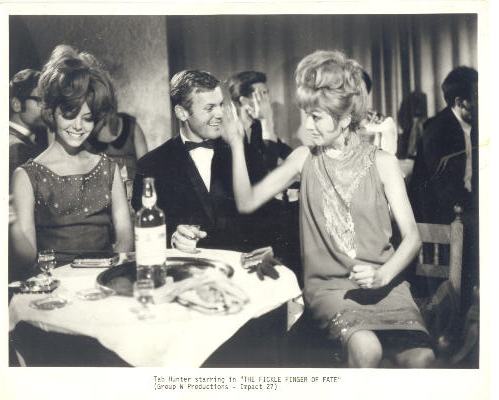 By the way, the British edition had a different cover.  Here it is: