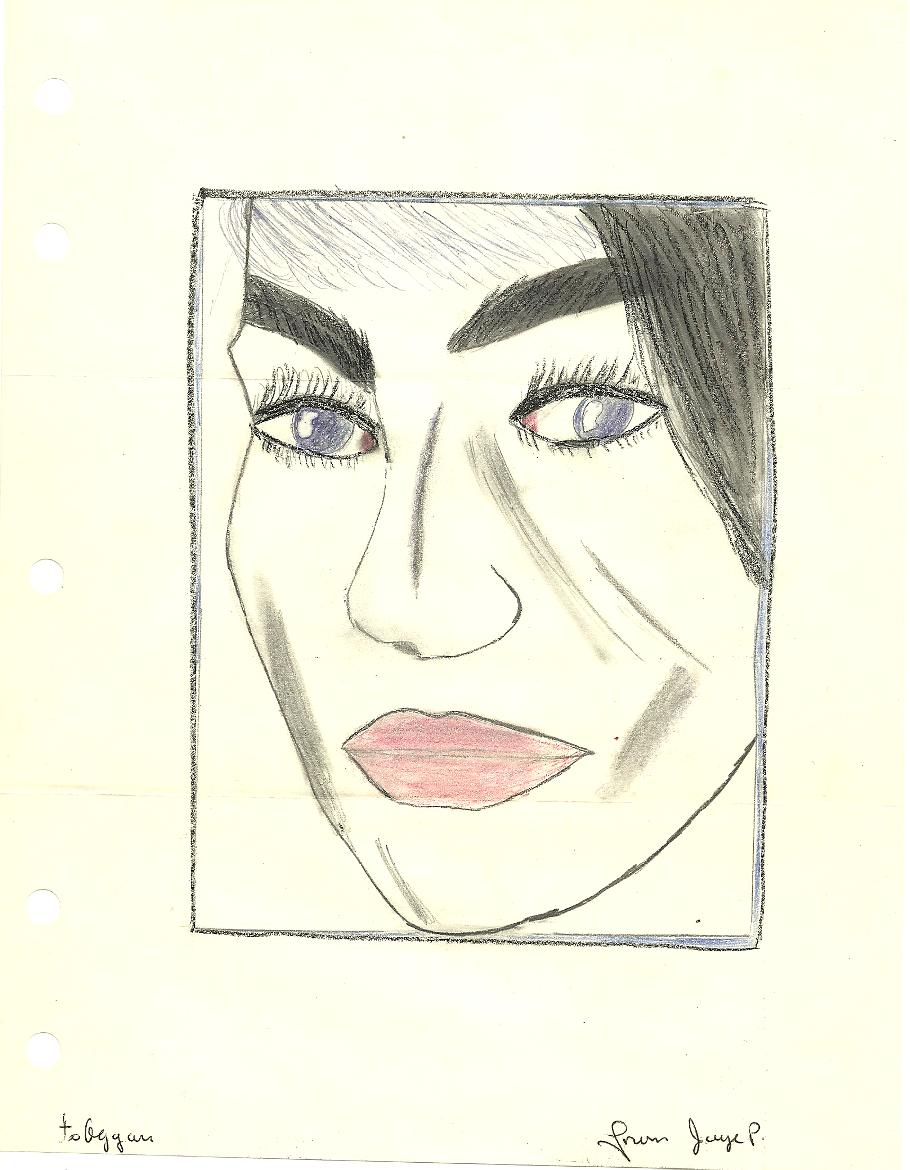 I had posted a photocopy of Jaye Paro's sketch of her alien/android contact Agar a while back; I've turned up the original, so I'll post it here as well.
The sketch was included in a letter to John, purportedly from Mr. Apol, a dapper humanoid who also makes a memorable appearance in The Mothman Prophecies.  John carried on a fascinating correspondence with this enigmatic character, who always wrote in crudely lettered red pencil.  As I said in the last post, I think he was a product of Paro's imagination or subconscious; at any rate, all of John's dealings with him were through her.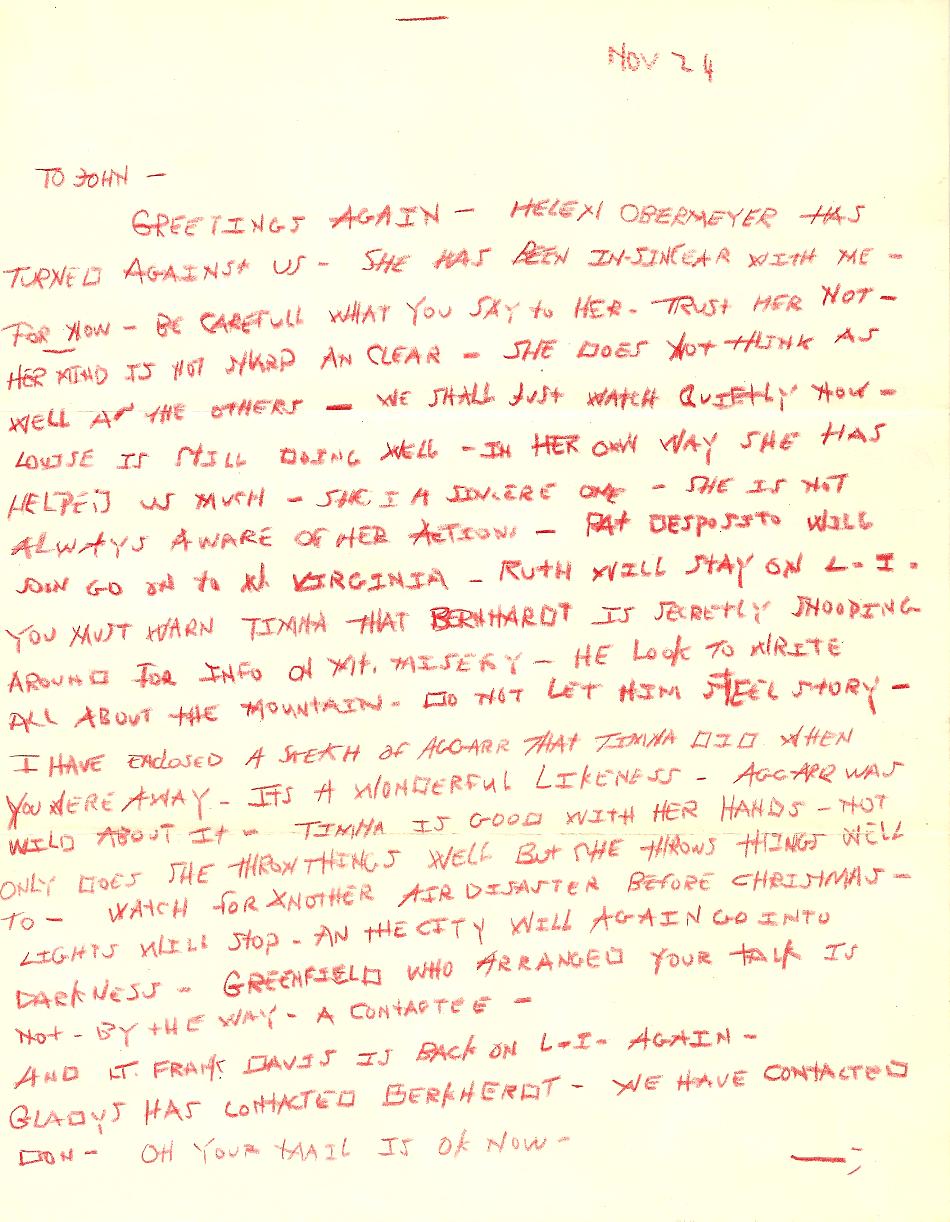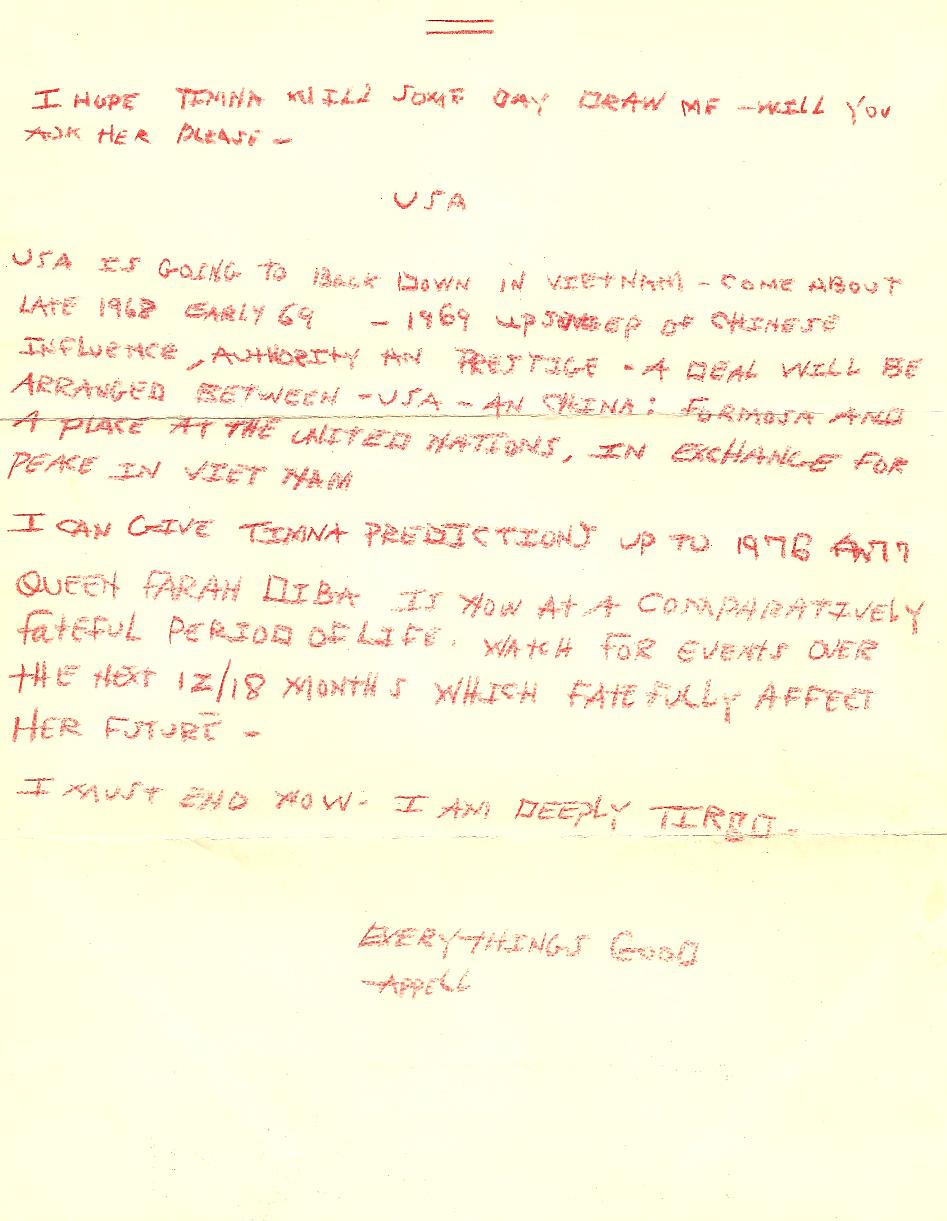 "Tim'na" was Apol's name for Paro, by the way.  I'll transcribe the letter, since aliens have notoriously poor penmanship; I will, however, keep the eccentric spelling and punctuation.  This is a good sample of the kind of material that John was contending with on a daily basis in 1967.
TO JOHN –
GREETINGS AGAIN – HELEN OBERMEYER HAS TURNED AGAINST US – SHE HAS BEEN INSINCEAR WITH ME – FOR NOW – BE CAREFULL WHAT YOU SAY TO HER – TRUST HER NOT – HER MIND IS NOT SHARP AN CLEAR – SHE DOES NOT THINK AS WELL AS THE OTHERS – WE SHALL JUST WATCH QUIETLY NOW – LOUISE IS STILL DOING WELL – IN HER OWN WAY SHE HAS HELPED US MUCH – SHE I A SINCERE ONE – SHE IS NOT ALWAYS AWARE OF HER ACTIONS – PAT DESPOSITO WILL SOON GO ON TO W VIRGINIA – RUTH WILL STAY ON L-I – YOU MUST WARN TIMNA THAT BERNHARDT IS SECRETLY SNOOPING AROUND FOR INFO ON MT. MISERY – HE LOOK TO WRITE ALL ABOUT THE MOUNTAIN – DO NOT LET HIM STEEL STORY – I HAVE ENCLOSED A SKETCH OF AGGARR THAT TIMNA DID WHEN YOU WERE AWAY – ITS A WONDERFUL LIKENESS – AGGARR WAS WILD ABOUT IT – TIMNA IS GOOD WITH HER HANDS – NOT ONLY DOES SHE THROW THINGS WELL BUT SHE THROWS THINGS WELL TO – WATCH FOR ANOTHER AIR DISASTER BEFORE CHRISTMAS – LIGHTS WILL STOP – AN THE CITY WILL AGAIN GO INTO DARKNESS – GREENFIELD WHO ARRANGED YOUR TALK IS NOT – BY THE WAY – A CONTACTEE –
AND LT. FRANK DAVIS IS BACK ON L-I- AGAIN – GLADYS HAS CONTACTED BERNHARDT – WE HAVE CONTACTED DON – OH YOUR MAIL IS OK NOW –
I HOPE TIMNA WILL SOME DAY DRAW ME – WILL YOU ASK HER PLEASE –
USA
USA IS GOING TO BACK DOWN IN VIETNAM – COME ABOUT LATE 1968 EARLY 69 – 1969 UPSWEEP OF CHINESE INFLUENCE, AUTHORITY AN PRESTIGE – A DEAL WILL BE ARRANGED BETWEEN – USA – AN CHINA: FORMOSA AND A PLACE AT THE UNITED NATIONS, IN EXCHANGE FOR PEACE IN VIET NAM
I CAN GIVE TIMNA PREDICTIONS UP TO 1976 AN 77
QUEEN FARAH DIBA IS NOW AT A COMPARATIVELY fatEFUL  PERIOD OF LIFE.  WATCH FOR EVENTS OVER THE NEXT 12/18 MONTHS WHICH FATEFULLY AFFECT HER FUTURE –
I MUST END NOW – I AM DEEPLY TIRED –
EVERYTHINGS GOOD
APPELL