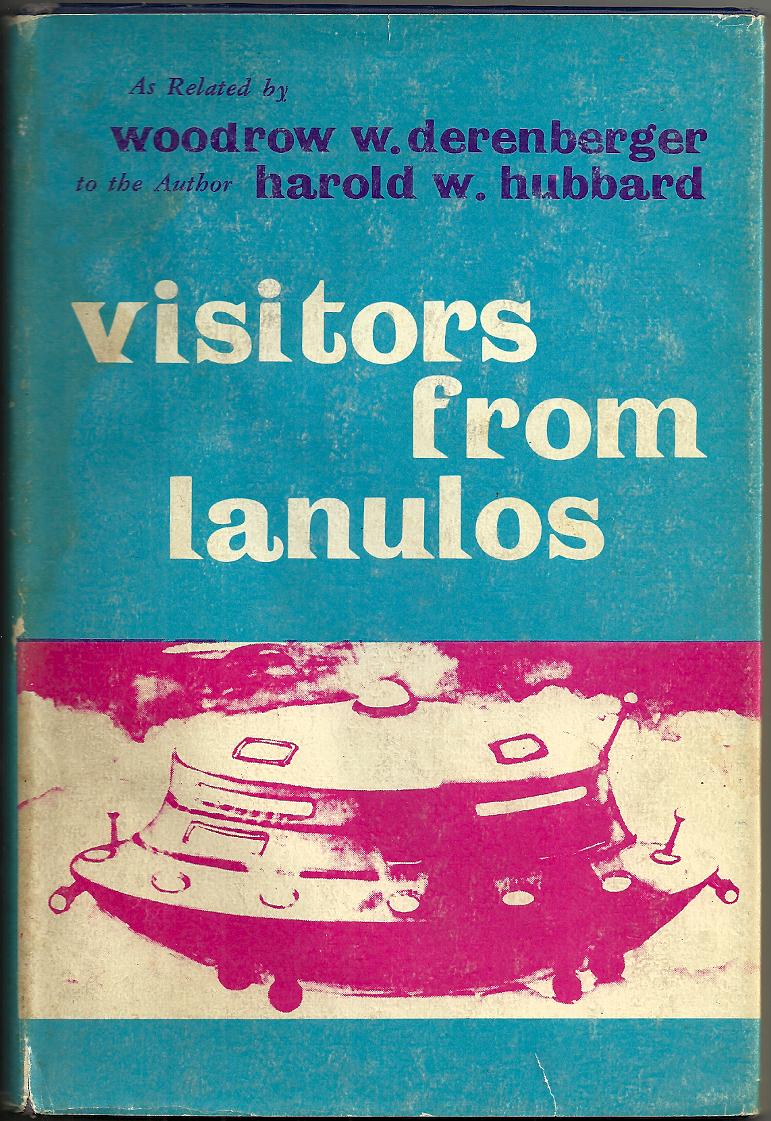 One of the most puzzling and arresting characters in The Mothman Prophecies is Woodrow Derenberger, the sewing-machine salesman who met Indrid Cold one rainy evening on the Interstate. (Those who know Mothman only from the movie may not realize that Mothman and Indrid Cold were conflated for filmic purposes: Cold was not the "winged weirdie," but a pleasant, telepathic ufonaut.) Derenberger and Harold W. Hubbard told their own version of the story in Visitors From Lanulos, published by Vantage Press in 1971.
It's a slender volume, filled with Derenberger's implausible tales of saucer rides, planets peopled by pious nudists who drink decaffeinated coffee, and feathered humanoids in pink spaceships. It's illustrated with detailed saucer plans, and the "Intergalactic Alphabet" used on the planet Lanulos. Vantage is a well-known "vanity press"; I assume the book was sold at personal appearances by Derenberger or Hubbard, a UFO investigator in Ohio.
And it has a Foreword by John A. Keel, although that interesting fact is not publicized on the cover. John's Foreword is dated Oct. 12, 1968; the book seems to have been in production for a while.
John makes it clear that he doesn't believe Derenberger, but thinks he deserves a hearing. It's a sensible standpoint; and all too rare in the simplistic polemics of believers versus mockers.
Since Visitors From Lanulos is also rare nowadays, here are a couple of excerpts from John's Foreword:
"There are many who will scoff at this book and reject it entirely. Woodrow Derenberger will be called a liar, a psychopath and many other unpleasant things. He has already suffered considerable ridicule and condemnation, even from those who believe in "flying saucers" but do not wish to believe that someone is actually riding around in them. I cannot endorse his story but I do feel I know the man well enough to give him a character reference. The important thing is that he seems to be telling the truth as he knows it. He sincerely believes that these things happened to him. And he is willing to expose himself to ridicule and condemnation in order to make himself heard."
"I have talked to 'contactee' claimants who are doctors, lawyers, newspapermen, police officers and pilots. Woody has a lot of company; sane, reputable people. Perhaps we are the ones who have been insane for ignoring them for so long. Strange, unbelievable things are now happening to people all over the world. By listening to the handful of courageous ones, like Woodrow Derenberger, we may at last gain some real insight into what is really behind the UFO phenomenon.
"I'm not asking you to believe any of it. But I am asking you to listen to what he has to say. Incredible though it may seem, it is very possible that these very same things could happen to you tomorrow."