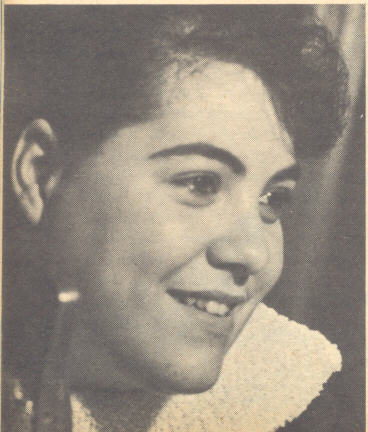 Readers of The Mothman Prophecies may remember Jaye P. Paro, a radio personality at the Long Island station WBAB.  There is much on her in Chapter 15; she met the curious "Princess Moon Owl," and had an "unnerving experience" with a man in a black Cadillac.
Ms. Paro also appears in Strange Creatures, in Chapter 10.  John describes some of the folklore and creature sightings on Mount Misery, in Long Island; and mentions that she and a couple of her friends saw "something that resembled a human, disfigured face, long wild black hair, and dressed in a long black garment."  John adds that they took a picture of this creepy character.  A Googling tells me that some people out there are curious about this photo, so I'll post it here.  It's none too impressive; it looks, as John says, like "a dark blob."  But here it is; you can see for yourself.
It was published in the July 1969 issue of Beyond.  The same magazine published a (clearer) photo of Ms. Paro; I've posted that above, so you can put a face to the name.