Well, this is a curious thing. In the same little plastic box with the wooden plugs from a telephone in Point Pleasant, John kept this pill. And he had this to say about it, in his unfinished dictionary: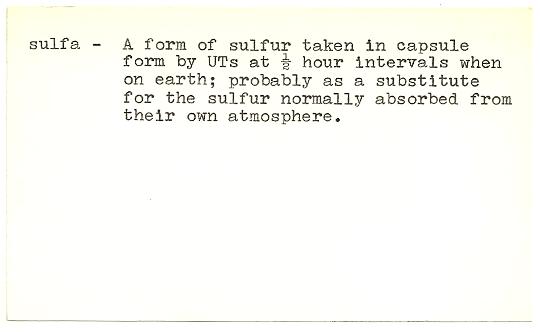 In fact, sulfa or sulpha is a common antimicrobial, and the most popular antibiotic before the discovery of penicillin. Roche still produces it. The idea that aliens might want to protect themselves from microbes recalls, inevitably, The War of the Worlds, in which microbes were the downfall of those nasty Martians.
Several of John's "silent contactees" (UFO experiencers who shunned publicity) reported that aliens and/or Men In Black took pills. I suppose this one was given to John by one of them. (ADDENDUM: It was given to him by Jaye Paro, one of the contactees he was investigating, in 1967.)
I'll point out that John doesn't seem to have had direct contact with anyone claiming to be an alien; phone conversations and correspondence were always through the contactees, sometimes by channeling. To me, that suggests that the supposed UTs (ultraterrestrials) had no independent existence. But, for all of us intrigued by those persistent tales of pill-popping aliens, well, this is what the pills looked like.