I'll return to posting Mary Hyre's letters, sent to John during the Point Pleasant flap of 1967.  The last was from May 2; this one followed on the 4th.  She catches him up on more UFO sightings, and mentions that she will soon celebrate 25 years at the Messenger.  For those who have trouble with Hyrean longhand, I've transcribed it below.  I looked up Camp Conley, by the way: it's not a camp, but a road near the TNT area.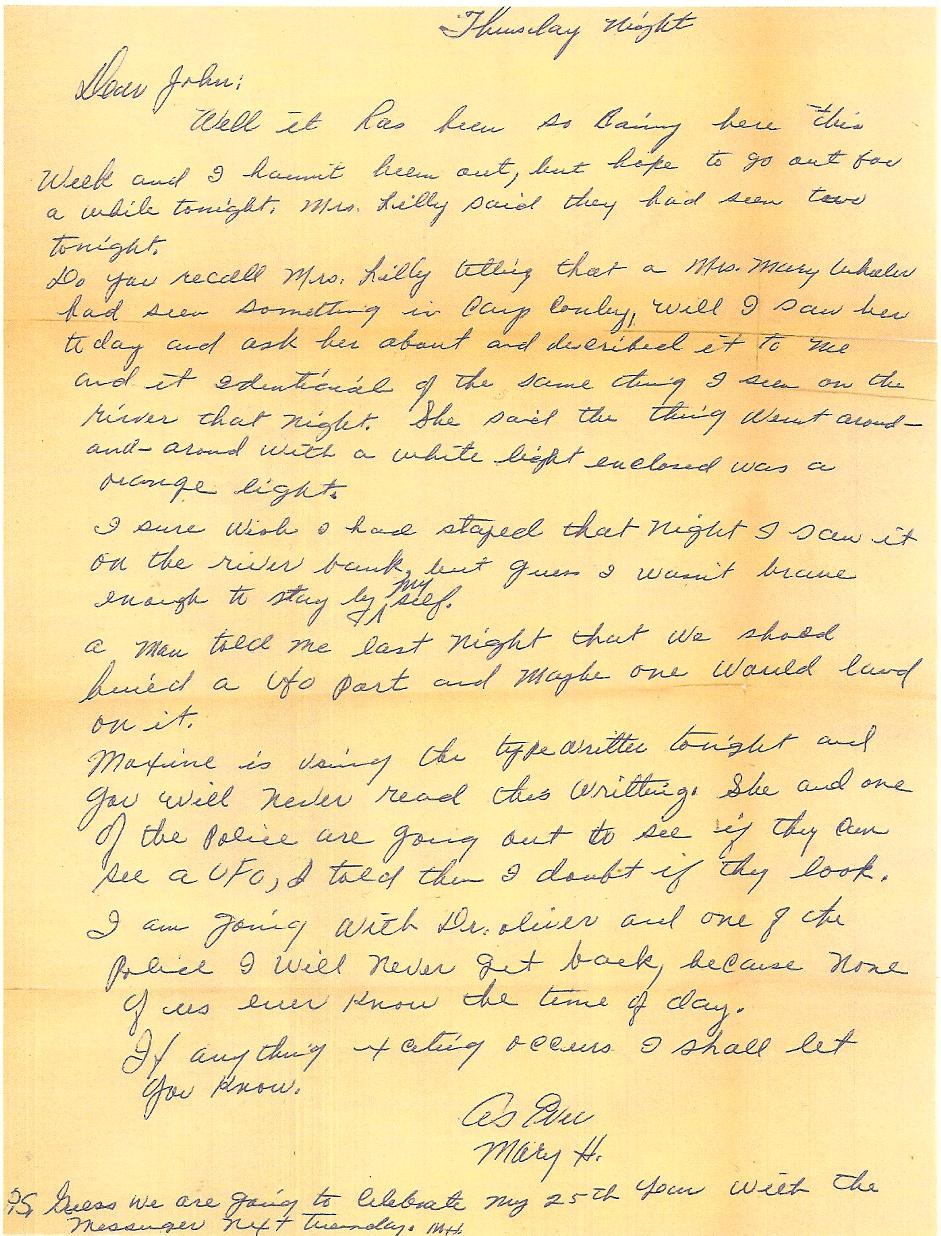 Dear John,
Well it has been so rainy here this week and I haven't been out, but hope to go out for a while tonight.  Mrs. Lilly said they had seen two tonight.
Do you recall Mrs. Lilly telling that a Mrs. Mary Wheeler had seen something in Camp Conley, well I saw her today and ask her about and described it to me and it identical of the same thing I seen on the river that night.  She said the thing went around-and-around with a white light enclosed was a orange light.
I sure wish I had stayed that night I saw it on the river bank, but guess I wasn't brave enough to stay by myself.
A man told me last night that we should build a UFO port and maybe one would land on it.
Maxine is using the typewritter tonight and you will never read this writting.  She and one of the police are going out to see if they can see a UFO, I told them I doubt if they look.
I am going with Dr. Oliver and one of the police I will never get back, because none of us ever know the time of day.
If anything exciting occurs I shall let you know.
As ever, Mary H.
P.S.  Guess we are going to celebrate my 25th year with the Messenger next Tuesday.  MH