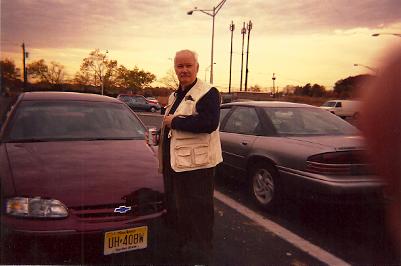 If John Keel were still here, I'm sure he'd be glad to toast you with a diet soda in a parking lot. This photo was taken by George Kuchar, who seems to have his thumb over the lens.
As we head into another year, please tell me what you'd like to see on this site. I'll warn you that John left surprisingly few notes about Mothman, although he did keep a file of clippings about it.
I've had a busy year, myself. Black Scat Books published my translation of a selection of plays by the proto-Surrealist Alphonse Allais, as well as a collection of my comics and picture stories, The Unknown Adjective. I also wrote the introduction to the second volume of Richard Toronto's definitive collection of Richard Shaver's artwork, Rokfogo, which may be of interest to some of you…  I'll be marking my 60th birthday with a concert of my music at Brooklyn's delightful Jalopy Theater, and am planning a number of lectures at the equally delightful Morbid Anatomy Museum, also in Brooklyn. You can check my site if you're curious.  Meanwhile, Happy New Year, and more Keeliana is on the way.