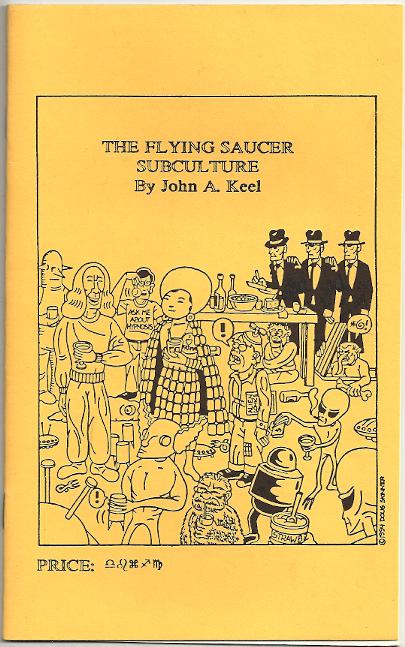 John Keel published several booklets in the '90s, under the imprint of the New York Fortean Society.  They reprinted articles he'd published earlier, elsewhere (see the bibliography for details).
One of these was The Flying Saucer Subculture, from 1994.  It contained an article John had written in 1973 for The Journal of Popular Culture (published in 1975), with an added "Afterword."
The article is a thorough history of ufology, detailing its literature, personalities, and theories.  John took delight in adding 105 footnotes, as well as a three-page bibliography.  His assessment was, as is to be expected, negative: he dismissed most of the literature as "almost totally paranoid and insane," and a "sea of trash."  He did, however, single out many researchers for approval, including John Michell, Brad Steiger, Jacques Vallee, and Gordon Creighton.
The "Afterword," coming twenty years later, expressed even more disaffection with the field.  He noted the deaths of many prominent writers, and dismissed the remaining crop of buffs as "pathetic mediocrities and discombobulated psychopaths"; and concluded that "American ufology remains a sad little hobby for a tiny group of severely maladjusted people."  He noted that "great progress has been made in Europe and elsewhere," and decried the diminishing quality of the American literature:  "The collapse of all cultural standards in the late 1970s meant that the Madison Avenue publishers no longer applied sensible criteria or followed a code of ethics."
I drew the cover for this booklet; John and I had great fun with all the ufological in-jokes.