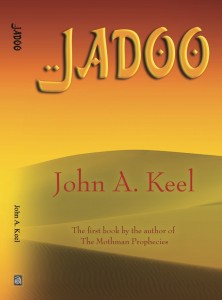 I'm happy to announce that a new edition of John Keel's Jadoo, edited by Patrick Huyghe, is now available from Anomalist Books.
Jadoo was John's first book, published in 1957.  It's an account of the year he spent traveling through Egypt and India, investigating magicians, tracking down legends, and getting into trouble.  He visited a mummy-maker, played Russian roulette with a notorious bandit, chased the yeti, and gave a spectacularly unsuccessful performance of the Indian rope trick.
This edition also includes some new material: a chapter cut by the publisher (about John's romantic difficulties during that year), travel notes written while sailing to India, a book review written under one of his pseudonyms, a pitch for a sequel, and photos from the period.
Here, to whet your appetite, is the song written for the original publication.  Jadoo!